Do you need new kitchen tiles or bathroom tiles near Oxshott, Surrey
Are you looking for new kitchen wall tiles, splashback tiles, or mosaic tiles for your kitchen in Oxshott, Stoke d'Abernon, Fairmile? Perhaps you are thinking about ceramic or porcelain tiles for a property refurbishment? Or maybe you are wondering if large format tiles or slabs are the right choices for your living area? Whatever types of tiles you are looking for, we have a whole range of tiles for homes and business premises.
Based in Chessington, Versatile is one of the largest ceramic showrooms in Surrey. We are a passionate and family-run tile business, so whether you are searching for picture-perfect tiles for your kitchen, bathroom, or another room in your property, we are perfectly placed to help. Established in 1984, we have over 35 years of experience in the tiling industry and have forged great relationships with many of the best tile suppliers throughout the world.
We stock a whole range of tiles from all over the globes and you can feel inspired with more than 6000 tiles on display in our 3500-square foot air-conditioned showroom. Our tiles are designed to meet the needs of all budgets, and all our tiles are offered at highly competitive prices.
To request more details and information, please call now on 020 8397 6363.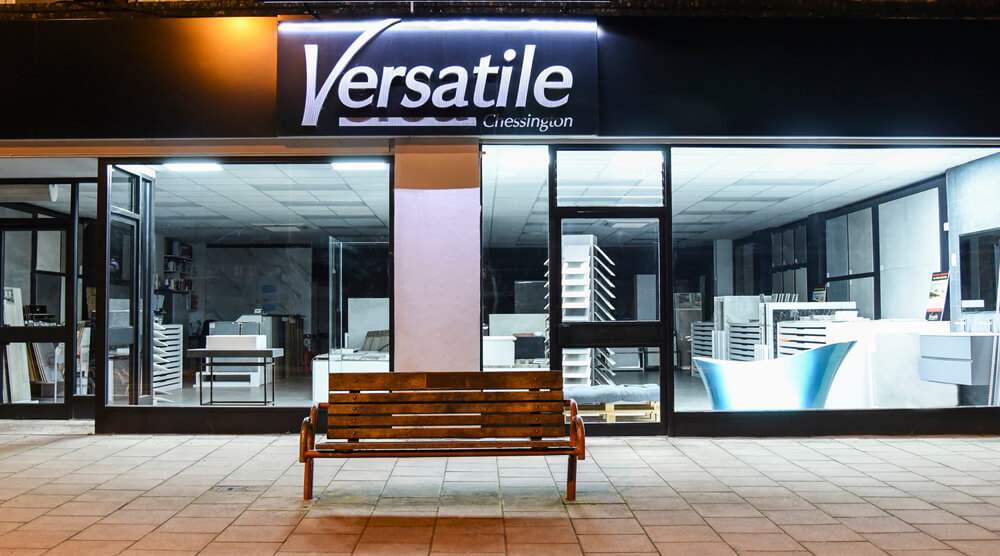 The following products are available at our extensive showroom
Mosaics
Indoor – outdoor ceramic tiles
Porcelain tiles
Metro tiles
Wood effect tiles
Slate tiles
External / Garden / Patio tiles
Swimming pool tiles
Victorian tiles
Garage floor tiles
Driveway tiles
Subway tiles
Laser water cut tiles
Italian porcelain
Marble
Glass tiles
Our tile shop near Oxshott supplies a stunning range of tiles
For all your residential and commercial tiling requirements in Stoke d'Abernon, Oxshott, or Claremont, call on Versatiles. We have a hugely-varied selection of tiles available in a whole range of different materials, including ceramics, porcelain, wood-effect, cement, marble, and more.
Whether you are gathering ideas for a future renovation or you need to buy new tiles today, our specialists are on hand to help advise and guide you to the right choices. Our staff are professional and friendly, so we can always offer advice and help. Our tile showroom is based on North Parade in Chessington, with quick and convenient parking, so pop by and let us help you now. We also offer trade tile supply.
Come and visit our showroom
Over 6000 displays to browse
KT10 mosaic tiles, floor tiles, and other options
Some of our tiling options in Oxshott include (but are not limited to):
Mosaic tiles: Mosaic tiles have been around for thousands of years and are made by binding natural stone or ceramic pieces onto a mesh backing. There is a limitless range of colours and styles available and they are an excellent choice for rooms that might get wet, such as kitchens and bathrooms.
Wall tiles: Wall tiles are popular when renovating rooms like kitchens and bathrooms. Whether you are looking for kitchen splashback tiles or tiles for shower walls, these tiles are generally smaller and more lightweight than some other options. They are commonly made from ceramic.
Floor tiles: Our floor tiles offer a huge amount of design versatility, easy cleaning, and excellent longevity. Our floor tiles come in a range of materials, all of which are extremely long-lasting and provide value for money.
Ceramic tiles: Ceramic tiles are some of the most sought after tiles and these can be used to blend in with any interior décor. These tiles have a long lifespan and they are very durable and resistant to scratches and dents.
External tiles: We offer a whole range of indoor-outdoor tiles and slabs, that can be used for swimming pools, driveways, garage floors, patios, and other external applications.
Neighbouring areas we deliver to include :-
Claremont
Claygate
Downside
Elmbridge
Fairmile
Stoke D'abernon
Oxshott bathroom tiles: How to choose the right tiles
Are you refurbishing your bathroom or installing a new bathroom in Oxshott? Tiles can offer colour, pattern, texture and add to your interior in several ways. As well as protecting walls in bathrooms in spaces such as showers and baths and behind the basin, they can also add wonderful decoration and provide a modern and stylish update to any bathroom interior.
Bathroom tiles are available in a host of materials including natural stone, porcelain, ceramic, or glass. All of these materials offer different properties and are available at different budgets. We believe you should choose tiles that you love that will stand the test of time. Whether you opt for colour combinations, shapes and textures that you love, we can help guide you towards the best options. See more on our tile product range for inspiration.
Visit our tile showroom near Oxshott
Do you need help with a tiling project in Oxshott? Please call us now on 020 8397 6363 or email info@versatiletiles.co.uk
Bathroom tiles Oxshott

Kitchen tiles Malden Rushett

Floor tiles KT10
  info@versatiletiles.co.uk