Tiles for all requirements at our tile shop in Weybridge, Surrey
If you are planning a home or commercial property renovation in Weybridge, Chertsey, Oatlands Park, Walton Upon Thames, Shepperton, or one of the nearby parts of Surrey, there are many tiles to choose from at our local tile shop. Versatile are premier suppliers of kitchen tiles, bathroom tiles, wall tiles, floor tiles, mosaic tiles, and a whole host of other tiles. From our spacious Chessington tile showroom, we provide both retail and trade customers with tiles of the highest quality.
Tiles are an ideal choice for many applications throughout the home (or any commercial property). Practical, hard-wearing, and attractive, you will never need to compromise. We are local tile specialists with a wealth of experience regarding all aspects of tiling. Whether you are a homeowner about the embark on some DIY or a property developer or architect looking for high-quality tiles at the best prices, then you have come to the right place.
We source our tiles from leading manufacturers from around the world and by using our services, we are able to pass on savings to you. We are completely independent and stock what we feel is the most fantastic range of tiles available on the market right now. We are constantly updating our tile range, so if you are looking for the most on-trend tiles, our tile showroom will stock them.
If you are unsure and want to choose between tiles, you can choose to take home some tile samples to see how they look. We do have over 6000 displays in our 3500-square-foot tile showroom, so we understand that making a final choice can sometimes be tricky. Alongside our tiles, we also offer a number of tiling accessories, including grout and sealant, making us your go-to company for tiles. We also offer help and assistance at every stage, whether its technical advice you need or some interior design tips, our team will be more than happy to help.
For further information about our tiles or how we can help you, please call us now on 020 8397 6363.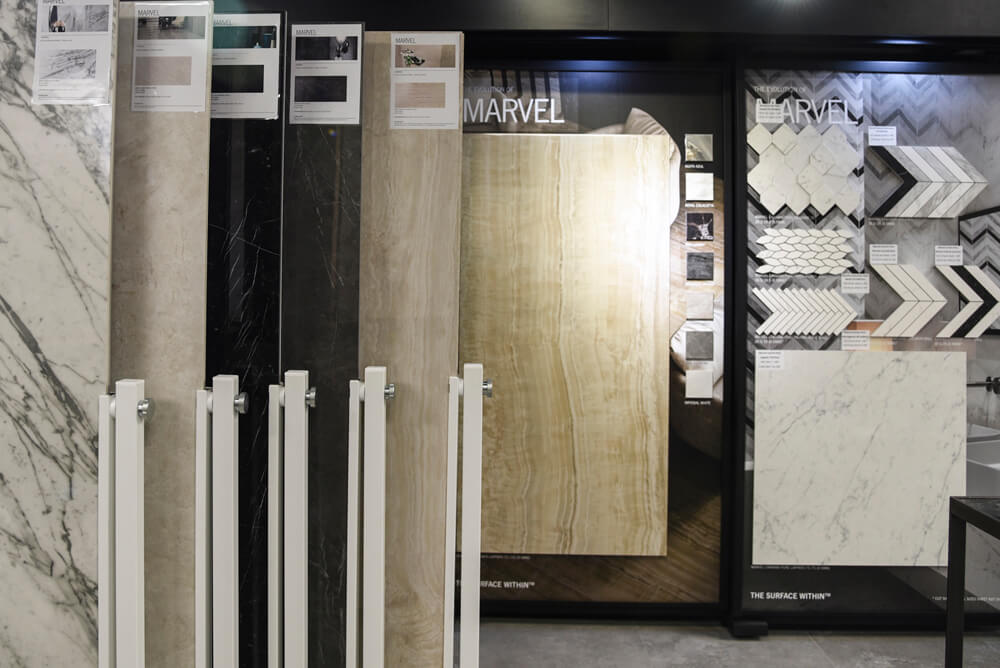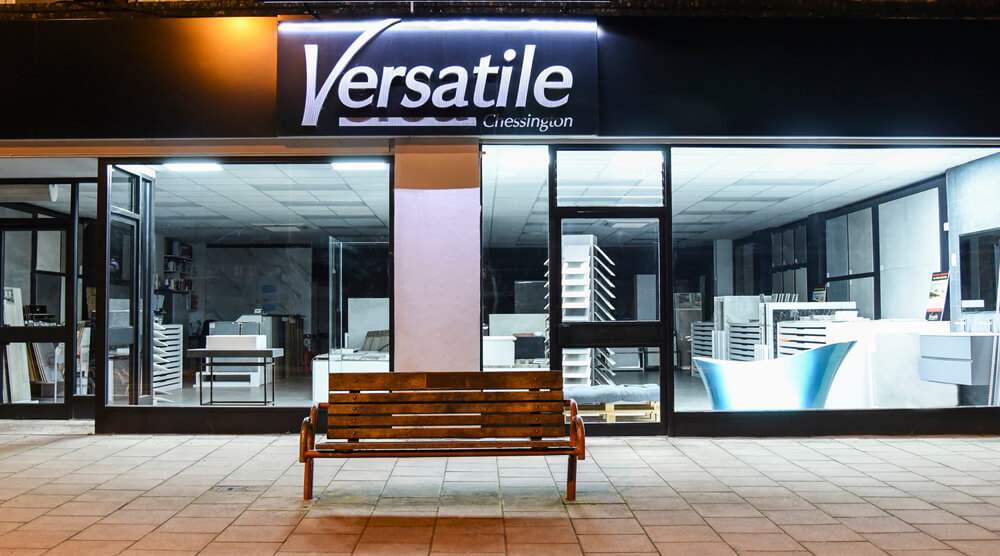 The following products are available at our extensive showroom
Mosaics
Indoor - outdoor ceramic tiles
Porcelain tiles
Metro tiles
Wood effect tiles
Slate tiles
External / Garden / Patio tiles
Swimming pool tiles
Victorian tiles
Garage floor tiles
Driveway tiles
Subway tiles
Laser water cut tiles
Italian porcelain
Marble
Glass tiles
Why choose wall tiles and floor tiles near Chertsey?
There is a wide range of benefits when it comes to choosing tiles in Weybridge and Chertsey over alternative materials. Tiles embody style and taste and are durable and strong. Benefits of using wall tiles, floor tiles, bathroom tiles, kitchen tiles, and other tiles, include:
They are easy to clean: No matter how great something looks, if it is hard to clean, it can be frustrating. In busy homes and commercial premises, tiles are ideal, especially floor tiles. When mud and dirt are brought in, a simple wipe down or quick mop will make them look as good as new in no time. Wall tiles are also easy to maintain and clean, so if you splash them whilst cooking, a simple wipe down will do the job.
They are durable: Tiles are incredibly hard-wearing due to the material they are made from and the way they are manufactured. Floor tiles can withstand constant footfall without becoming dented or damaged. They are also resistant to water, so ideal for bathrooms and kitchens.
They add style: We stock a wide range of tiles in all materials, designs, colours, and textures, so you can inject your own personality and style into your home. Whether you are looking for contemporary tiles, or something more classic, you will find the right tiles for your needs. These include tiles made in ceramic, marble, porcelain, glass, and slate.
They add luxury: Our tiles can add style and elegance. For customers with underfloor heating systems, they can add a luxurious feel.
Come and visit our showroom
Over 6000 displays to browse
KT11 mosaic tiles: Why we love them
Mosaic tiles combine glass, ceramic, porcelain and stone, and are usually set in a small format. We stock hundreds of mosaic tiles to pick from, that will look fantastic in lots of spaces in the home. Many people choose them for splashbacks, or in bathrooms, as well as feature walls or borders. They can add the 'wow' factor to any room and offer a subtle pop of colour. Individual patterns vary widely and this can make choosing the right mosaic tiles for your Weybridge property an exciting job.
Neighbouring areas we deliver to include :- Oatlands Park, Walton Upon Thames, Shepperton, Addlestone, Chertsey, Laleham Hersham, Byfleet, Elmbridge, Sunbury & Ashford
On the hunt for the best tiles in Weybridge? Contact our tile shop
We would love to talk through your tiling project in Weybridge, so pop into our tile showroom nearby, call us now on 020 8397 6363 or drop us a line at info@versatiletiles.co.uk
Bathroom tiles Weybridge

Kitchen tiles Chertsey

Floor tiles KT11
info@versatiletiles.co.uk